Premier Salt™ Resealable Bags
Premier Salt™ Airtight Chef Salt Jars
Premier Salt™
We pledge to provide the finest salts from all around the world directly to your doorstep. Our salts are unrefined, 100% all natural, and do not contain any additives or caking agents. 
Explore The Worlds Finest Salts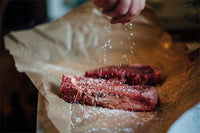 Customers Voice
Love love love this! I received my order right on time. I have used this salt everyday since I received it and in cooking my family loves it too. Will order again. Thank you so much! 

Akasha Santiago
Love this salt! Im on the keto diet and so I need a lot of salt. I'm not really a salt lover but I drink 1 liter of water with 1 tsp of this salt and the juice of 1/2 a lime in it every morning. I really enjoy it.

Erica
The color and coarseness is great but the flavor is what counts! I couldn't wait to "load" my grinder and I was not disappointed!

G. W.
This was my first purchase of pink sea salt. I have to say I thought it would likely taste like other sea salt. I was so wrong! Amazing flavor! It is less sharp, more subtle and smooth. Very Glad I tried it and will definitely get it again.

Inga
I love the taste of the hawaiian black lava salt. It can be used in cooking or on the table for those who like extra salt. I would recommend this product it's worth the price.

J. B.